PS5 : FIFA21
PS5 : FIFA21
RM259.00 RM299.00
Ex Tax: RM259.00

Product Code: PS5 : FIFA 21
Reward Points: 249
Availability: In Stock
GAME OVERVIEW
FIFA returns with new ways to play and team up with friends on the street and in the stadium.
Win as one in EA SPORTS™ FIFA 21, powered by Frostbite™. Whether it's on the streets or in the stadium, FIFA 21 has more ways to play than ever before - including the UEFA Champions League and CONMEBOL Libertadores.
EA SPORTS FIFA 21 launched on PS4 9th October, 2020; available on PS5 4th December, 2020.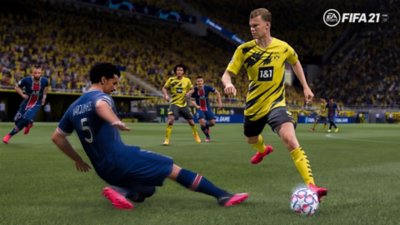 Gameplay
- Get rewarded for your creativity both on and off the ball in the most intelligent FIFA gameplay to date..
- Explode past defenders with new Agile Dribbling. Faster footwork gives you more control and responsiveness in one-on-one situations, while new skill moves leave defenders in the dust.
- Positioning Personality raises the importance of positional awareness. World-class forwards remain level with the last defender to stay onside, playmakers hunt for space to operate between the lines, while the best defenders will close down passing lanes more effectively.
- Creative Runs give you new options for influencing your team's movement off the ball, revolutionising attacking build-up play and providing more ways to break down the defence.
- Informed by feedback from the community, revisions to the Fundamentals of Football in FIFA raise the game throughout the pitch, with manual headers, more balanced blocking, more intelligent passing, and increased responsiveness giving you more control on and off the ball.
PS5™ features
- Stunning visuals: Enhanced player likenesses*1, stadium lighting, atmospheres, pre-match cinematics, and big goal moments bring you a next level matchday experience.
- Adaptive triggers: Feel the effects of fatigue and the battle for possession with increased trigger resistance as stamina decreases, and as players jostle for the ball.
- Haptic feedback: Sense the impact of shots, passes, and tackles with immersive controller haptics that let you feel the rhythm of the game in your hands.
*1 Compared with PS4.