Belkin 6 Way Surge + 2.4A USB Port
Belkin 6 Way Surge + 2.4A USB Port
RM205.00
Ex Tax: RM205.00

Brands
Belkin
Product Code:
Belkin 6 Way Surge + 2.4A USB Port
Reward Points:
219
Availability:
In Stock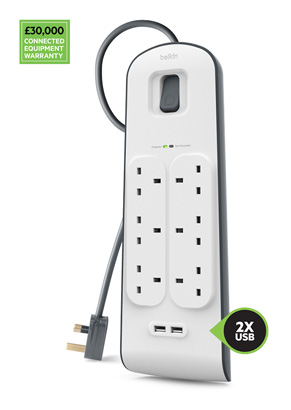 SIX-OUTLET PROTECTION WITH TWO USB PORTS
Keep your electronic devices protected from dangerous power surges and spikes with the Belkin 6-Outlet Surge Protection Strip with 2 USB Ports. Simply plug the surge protection strip into any AC wall outlet and connect up to six AC and two USB devices to keep them safe from power surges, lightning strikes, and AC contamination. Ideal for laptops, DVD players, gaming consoles, speakers, and other medium-sized electronics, the Belkin Surge Protection Strip is made with high-quality circuitry and premium absorptive materials to protect your devices and data.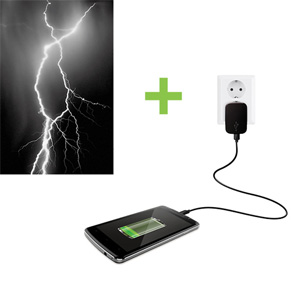 PROTECTS AGAINST SPIKES AND FLUCTUATIONS
Connecting your electronic devices to the Belkin Surge Protection Strip protects them from unexpected power surges, such as short circuits and lightning strikes. The surge protection strip also keeps your devices safe from sudden voltage fluctuations or low-level spikes and drops that can damage or even destroy electronics over time.
At a Glance:
Protects home and office electronics from dangerous power surges and spikes
Ideal for laptops, DVD players, gaming consoles, speakers, and other medium-sized electronics
Six protected AC outlets and two 2.4 amp USB ports
Heavy-duty 2-meter power cord keeps surge protection strip out of the way
Damage-resistant housing protects circuits from fire, impact, and rust
Rated to withstand a power surge of up to 650 joules
Three-line AC protection against surges between hot, neutral, and ground lines
Warranty repairs or replaces damaged connected equipment up to MYR 10,000
Package Includes:
Belkin BSV604 6-Outlet 2-Meter Surge Protection Strip with two 2.4 amp USB charging ports